We're partners, agent and distributors on Paraná and Santa Catarina of brand CONEXLED.
About Conexled
Part of a group of 32 years, since 2008 Conexled manufactures high performance LED illumination for commercial, public and industrial areas. With a technical team trained for indicate the best products and implement technical lighting test that can offered. Conexled constantly invests in technological innovation, improving and development of products to attend the market necessities, with the objective that always complete with client's expectations, considering the technical norms, with transparency, sustainability and continuum improvement.
Applications
Know the LED
LED (Light Emitter Diode) is an electronic semiconductor component with the property of transform electrical energy in light through a process known as electroluminescence. This process of electroluminescence, different process of found in conventional lamps (filament heating until incandescence, electrical discharge through gas, among others); consist on electronic excitation, by the passage of electric current through the material (semiconductor chip). Most important component of a LED is the semiconductor chip (figure 2) responsible by light generation. This chip has reduced size, as can be seen in Figure 1, where we show a conventional LED and their components.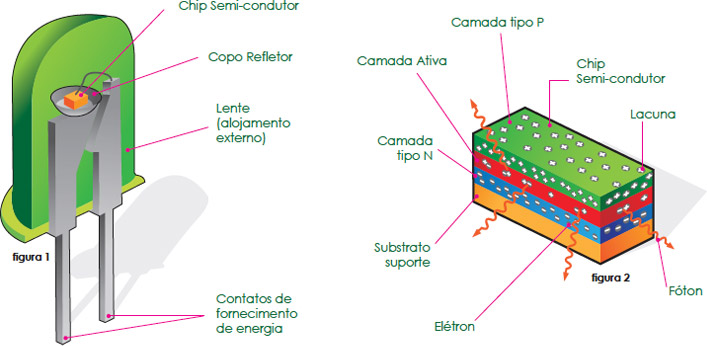 Figure 3, we show a power LED – which we use, where is possible to see the greater complexity of components, to assure the best performance in applications where is demanded more reliability and efficiency.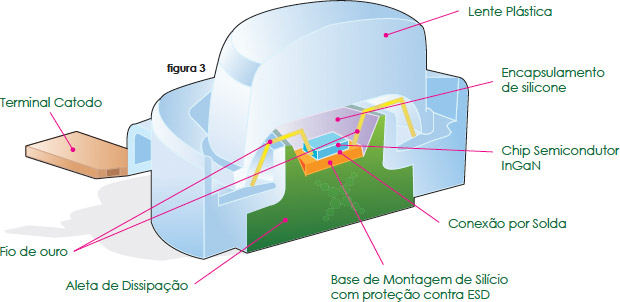 The light emitted by LEDs is cold because no infrared presence in this light beam. Otherwise, LEDs release power as heat, for that is necessity of heat sinks, assuring the operation it's inside of the junction temperature limits specified by manufacturer. It can be seen in figure 4 the drawing of a conventional LED where the dissipated power way is the same of the electric current; been this indicated by the copper trail on printed circuit board. In Figure 5, we present a high power LED that have distinct thermic and electric ways, with heat remove made by the coupling of a heat sink at its base, assuring a better dissipation.

PRINCIPAL DIFFERENTIALS OF CONEXLED PRODUCTS:
Big pollution reduction, heat and power consumption ( 85% less) in comparison to conventional lamps;
Lifespan up to 12 years (>50 000 hours), reducing new products acquisition spending, maintenance and workforce;
Ecologically correct product. As well providing power savings, do not use heavy metals like plumb or mercury on composition and has recyclable components;
Low light depression (in general);
Not emitting infrared (IR) and ultraviolet (UV) radiations on light beam – avoiding insects attraction and not produce aging of objects exposed to the its light;
Not requires high voltage equipment, reducing risk of accidents;
Robust lamps, manufactured with materials of high corrosive and mechanical resistance, with sealing resistant to outdoors providing long lifespan to its electrical and mechanical components;
Resistant to shocks and vibrations, reducing transport, installation and maintenance problems;
High power LEDs certified as Lighting Class according to LM80, It's among of better efficiency on the market. Providing more light and brightness, wasting less energy;
Products especially designed for public and industrial illumination, having IP65/IP67 level protection, with differentiated finishing resisting to aggressive environmental.
Our team is prepared to do the lighting study of the area; we'll go at your facility and will check out all your needs and identify the best products to be applied!
Bringing solutions in high performance LED illumination!